I setup Seafile a few months ago with the default setup to test it out. I finally decided to setup SSL to secure the connection (especially on my phone and tablets).
I followed the guide at Deploy with Apache but while …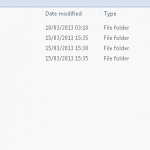 To hide a folder in Samba you must edit the smb.conf file (/etc/samba/smb.conf).  To hide a folder globally put the following into the [global] section or into the relevant share section if it's just for a single share.
eg. To …
I've started using Shaarli to organise my bookmarks. It's a small php webapp to store website bookmarks that doesn't require a database to function. It supports public and private links, tagging,  storing notes, tag clouds and more. It also has …