In the first part of this tutorial we installed pymongo , connected to the database, created a collection, inserted a few documents and then retrieved the documents back out of MongoDB. In this tutorial we'll go through updating a document …
A simple command line password generator written in Python and supports both Python 2.7 and Python 3+.
If ran with no arguments, it creates a 16 character password and copies it to the clipboard.
The following arguments can be passed …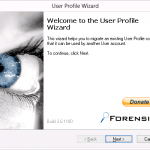 Rather than moving or copying user files around which can take some time on older PCs, I've started using a free tool called User Profile Wizard made by ForensiT.
Extract out the contents of the zip file and run the …