Ludum Dare 23 Entry
Theme: Tiny Worlds
A simple top down space shooter. 5 enemy planets are sending ships to attack earth and your goal is to stop them.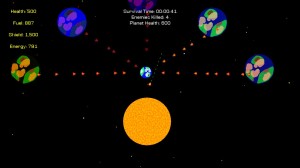 [download id="2″]
Controls and Mechanics
Recharge your fuel by flying over the sun, but be careful as it also damages your shield or health. The shield recharges, health doesn't.
W = forward
S = backward
A = turn left
D = turn right
F or Enter = select
Left mouse or right control = Fire Gun
Escape = In game menu
Mouse wheel = zoom camera