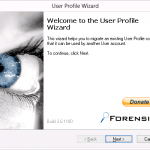 Rather than moving or copying user files around which can take some time on older PCs, I've started using a free tool called User Profile Wizard made by ForensiT.
Extract out the contents of the zip file and run the …
This tutorial will guide you through setting up a Samba 4 Domain Controller using Active Directory on Ubuntu Server 12.04. Samba 4 is the first version of Samba that have full Active Directory support and will allow newer versions of …
Samba 4.0 has been released which includes full Active Directory support. I will be looking into running a small domain controller and will post a few tutorials showing how to get everything setup with both Windows and Linux.
Official wiki …